In spring 2019, more than 100,000 people joined efforts in a petition at change.org to fight "poison named 'Karate Forst flüssig' [en: 'Karate Forest liquid'] to be sprayed in Brandenburg forests" – contrary to plans of the Ministry of Forestry in Potsdam. The petition was successful: The Higher Administrative Court banned the spraying due to a law suit by NABU Brandenburg. [en.wikipedia.org: The Naturschutzbund Deutschland e.V. ("Nature and Biodiversity Conservation Union") or NABU is a German non-governmental organisation (NGO) dedicated to conservation at home and abroad, including the protection of rivers, forests and individual species of animals.]
Our citizens' action now has a monument: the "Stone of 100,000" commemorates 100,976 signatories of the successful petition!

Image: deep link to change.org
Read more: "NEUIGKEIT ZUR PETITION: Stein der 100.000" (change.org).
This map Borkwalde, Siebenbrüderweg shows, where the "Stone of 100,000" is located.
Unfortunately, registration via the natury calendar of naktivities was exceptionally not possible this year.

Kunsthal informs you in short on "SAT 6 JUN 18:30-22:00 We Are Anmals Naked Tour" (kunsthal.nl) about the exhibition's concept and the "Naked Tour". When you click the button "BOOK YOUR TICKET HERE!" at the end of the page, Kunsthal's online booking system informs you:
"Sorry, there are no more online tickets for the selected date. Please choose another day."

Read more: "WE ARE ANIMALS FEB. 5, 2021 – OCT. 24, 2021" (kunsthal.nl)

You can find information about the Corona rules at Kunsthal in Dutch and English on Kunsthal's website.

Due to standard Corona measures (mouth-nose protection, time slot, and limited number of participants), we ask you this year to arrange your own visit to Kunsthal via online ticket sales. Kunsthal does not require prior testing, however, for a stay of longer than 12 hours in the Netherlands after entering from Germany, a negative test is mandatory according to current information (15 June 2021). As soon as a normal visit will be possible again in the context of Corona, we will gladly arrange the initiative for a visit and, if necessary, a German dubbed translation of the guided tour for you.

– Guido
With the move to a new server, the individual language versions of the natury website have also their own URLs: natury.info (EN), natury.nl (NL) and natury.fr (FR) are now set up alongside natury.de (DE) in an independent installation. The move has – of course – caused some tidying up, and we apologise for any small inconvenience this may have caused! We are working diligently to ensure, that everything runs smoothly again soon…
In particular, URLs have been simplified:
https://natury.de/de/… → https://natury.de/…
https://natury.de/uk/… → https://natury.info/…
https://natury.de/nl/… → https://natury.nl/…
https://natury.de/fr/… → https://natury.fr/…
https://natury.de/index.php/de/… → https://natury.de/…
https://natury.de/index.php/uk/… → https://natury.info/…
https://natury.de/index.php/nl/… → https://natury.nl/…
https://natury.de/index.php/fr/… → https://natury.fr/…
Also, we have switched from so-called relative to shorter direct URLs. Examples:
https://natury.de/index.php/de/uk/reports/by-date/2019 → https://natury.info/reports-2019
https://natury.de/index.php/de/uk/reports/by-date/2019/2019-11-03-sierra-natura (or something like that, but even longer) → https://natury.info/sierra-natura-newt-richard-foley
The natury website was unavailable several times during the last few days
with outages ranging from a few minutes to almost 2 hours. We apologise for these instabilities. The cause was heavy server load by so-called bots ("robots"), i.e. software-controlled users of the website. We are still in the process of clarifying exactly, which bots were the cause, in order to be able to avoid future disruptions. As soon as we have clear results, we will report. In the meantime, we ask for your understanding and, if necessary, your patience!
Eight years after his spectacular, completely air cooled ski jump, Halvor Egner Granerud achieved his greatest success to date by winning World Cup 2020/21.

Nude ski jump in winter 2012/2013
Shortly before the final of the Nordic World Ski Championships, Corona virus brought Norway's ski jumping high-flyer Halvor Egner Granerud down. The eleven-time season winner was isolated on Wednesday 3 March after positive testing. The great rival of Markus Eisenbichler and Karl Geiger was thus ruled out for the decisions on the large hill in Oberstdorf.
You will be reminded of nude hiking every day in the living room, if you indulge yourself and your loved ones the new nude hiker flower pot decorations. Four figures, each 8 cm high, find a green environment among the houseplants like the human nude hiker in forests and meadows.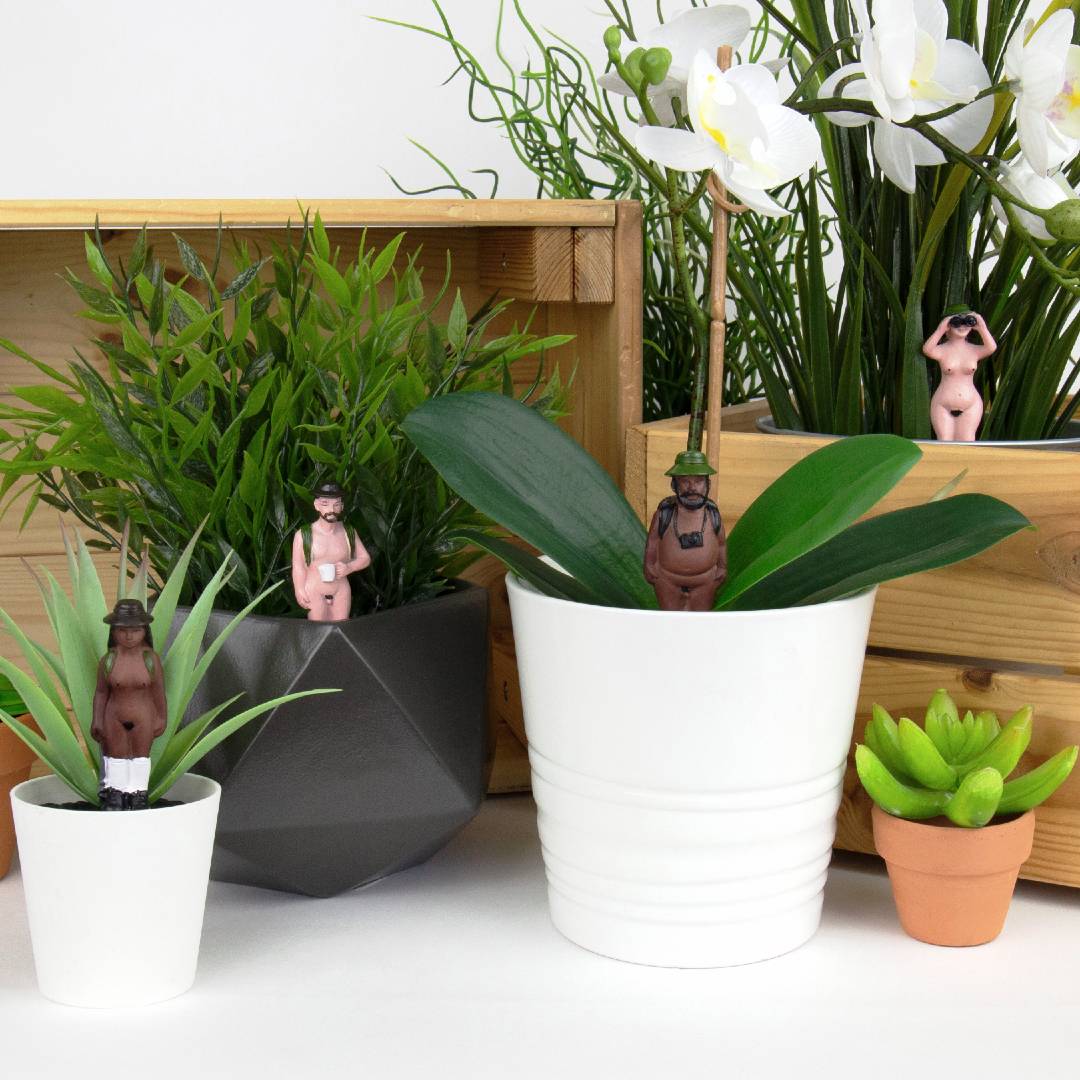 Picture: Deep Link to the website "Blumentopf-Dekoration Nacktwandern" [en: Flowerpot Decoration Nude Hiking] (enjoymedia.ch)
The fact, that nude hiking has almost become common practice, can be seen in the 2021 collection of Busch, a traditional company in the field of landscape design for model railways. The catalogue, which until now contained only one naturist model, in contrast to that of the H0 figure manufacturer Preiser, which has offered several naturist figures for many years, now comes with three more model packs on nude hiking, nude barbecuing, and with the well-known scene of the laptop-robbing wild boar from Berlin. Pixelation of pictures in the catalogue does hopefully not apply to the real figures.
Group hikes are not yet presented in this catalogue: However, a figure of one couple hiking in the buff is available. They are standing in front of a hiking map with a rubbish bin turning their backs to that. Obviously, Busch has understood, that nude hikers know their ways and keep the forest clean …
– Thanks to Guido for the hint.
Links to a photo collection of naturist figures offered by BUSCH:
With some IP addresses, the above links only work, when you log in @instagram. On page 19 of the catalogue by Busch (PDF), you may also watch photos of the mentioned products.
Newspaper articles about the wild boar stealing a laptop:
Visitors of the natury website using an ultra wide screen monitor (2560 x 1080 = UWFHD) faced the issue, that the right ("sticky") menu partly interfered with content in the main part of the website, so that you could have difficulties to read text or click links:
Therefore, the layout of the natury website has been modified:
The "sticky" right menu moves to the upper right corner of the browser window (and remains "sticky" there). If the screen window is dragged narrower or the visitor switches to higher zoom factors (zoom in content), the menu will move towards the content column, but before it gets to the content and could cover it, it will disappear.


In order to be able to select the next adjacent menu item via the hierarchical, vertical menu layout, such a menu with a white background can be invoked by clicking on the green menu button at the top of the screen – this also covers the contents, but it disappears again immediately after clicking on a menu item. If you need the menu again, you can call it up again with the green button. Also, there is the symbol ⊗ in the upper right corner of the menu panel, which you can use to click the menu away again.


The horizontal mega-menu is retained. In the case of very narrow windows, such as on a smartphone, it is reduced to a dark grey menu bar, which opens a menu specially optimised for smartphone operation.
It is a simple, compelling coinage: "naked vacation" is just "nakation" – short, compelling, remains in your mind!
As you may discover by browsing through the following citates, this means helpful information by media, fun, a wonderful, healthy lifestyle, and also a serious, growing business.
Have fun living your personal lifestyle in the nude, stay naktiv, plan your next nakation.
Five days of cloudless high-pressure weather with strong, cold eastern winds – the temperature sensation is just above zero, even the bright March sun cannot change that. But even in times of COVID-19, you have to keep fit and need exercise – jogging or walking once a day or at least a stroll is necessary to strengthen your immune system.
At a small
lake, a rest was welcome: Bright sun shining into your face, feet under water, lovely small talk – maintaining a certain distance, of course. You understand other persons even from a distance of 2 m and you do not have to expose yourself and others to the risk of droplet infection – because microscopic droplets are inevitable companions, when breathing out, and even more so, when speaking.
In supermarkets, which we all have to visit from time to time to buy food, keeping away from each other works all of a sudden in an exemplary way, as if each of us had trained this behaviour from an early age.
The people, who went for a walk this afternoon, were calm, cheerful, and health-conscious even in the Corona crisis: Here, too, you kept a certain distance, enjoyed the nice weather, and had relaxed conversations from safe distance.
There we go!
– Rainer
Google is ranking the natury website in English on top postions.
Search by Google on 12 March 2020 in Germany and on 18 March in USA shows articles of the natury website concerning the terms "nudevent" and "nudevents" on top postions. On 18 March, a search for "nudevents" from Germany shows, that the second entry, which was "Hiking in the buff - Natury" on 12 March, is now "Nude biking - Natury". Good news is, that natury still is on position 1 and 2.
The US ranking order differs slightly from the result in Germany, but is also very good.
"[…] For such a progressive country […] we've still got some pretty archaic views on things. […]"
– Vera Alves (NZ Herald): "New Zealand, we need to talk." (nzherald.co.nz cited on natury.info)